Increase Security, Safety, and Efficiency in Your Warehouse or Distribution Center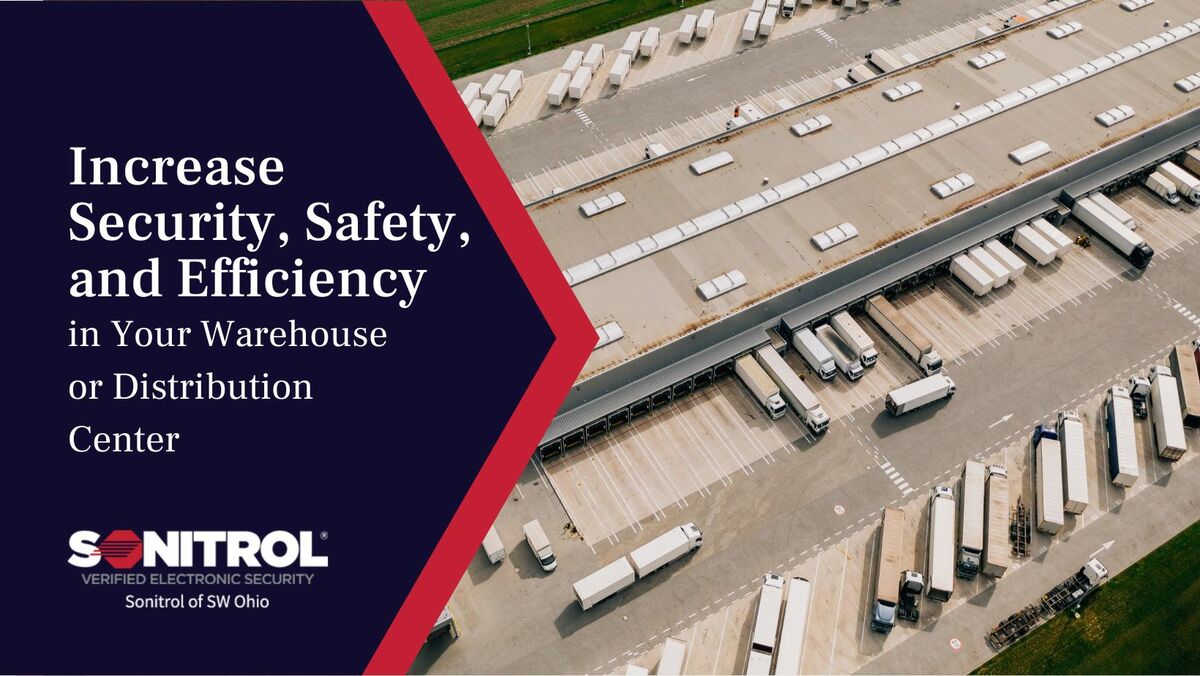 Black Friday and the holidays are likely the busiest time of year for your warehouse or distribution center. With thousands of orders to be filled, tons of products to move, and staff who are eager to get home to their families, security is the last thing you want to think about.
The good news is that there are a few simple steps warehouses and distribution centers can take to improve their security before the holiday season.
If you are looking for a warehouse or distribution center security upgrade, Sonitrol has compiled this guide to help give your warehouse improved safety, security, and efficiency.
Keep reading to learn more about improving your warehouse or distribution center security this holiday season.
Your Guide for Improved Distribution Center Security
Every warehouse manager and the owner knows that safety and security are a top priority. However, with the hustle and bustle of the holiday crunch, it can be difficult to focus on security.
Sonitrol helps make security a snap. Let's take a look at how different Sonitrol products help keep your distribution center safe, secure, and efficient.
Warehouse and Distribution Center Safety
Warehouse safety means keeping your employees protected from threats and harm. It also means protecting your valuables from theft and vandalism. But it doesn't stop there, fire and carbon monoxide leaks also pose key security threats to employees.
So, how do you keep your employees and valuables safe? Use Sonitrol's monitoring services.
Proven to be effective, monitoring services from Sonitrol use the top technologies to keep an eye on your facility all from our Central Station.
Our trained surveillance professionals know what to look for when it comes to threats, and our state-of-the-art technology helps spot potential dangers before they can threaten your crew's safety.
Sonitrol offers the following monitoring services:
Intrusion monitoring


Fire detector and sprinkler monitoring


Holdup/duress monitoring


Audio alarm monitoring


Security alarm verification


Critical equipment and condition monitoring


Video monitoring services


Video alarm verification


Location open/close monitoring


Employee Supervision


Remote access control management
Warehouse and Distribution Center Security
Security involves who is allowed on your property and focuses on preventing deliberate harm.
Sonitrol has many advanced solutions for preventing security threats to help keep your warehouse or distribution center secure.
One of the best tools for improved security is SonaVision.
Sonitrol uses advanced video monitoring technology to help deter and prevent both external and internal theft. Our video surveillance systems are as advanced as our intrusion alarm technology. What's more, our cameras, digital video recorders, and ancillary equipment can integrate seamlessly with Sonitrol of SW Ohio verified audio detection and any other modular components of your Sonitrol of SW Ohio system for even greater security.
Sonitrol also offers advanced distribution center security solutions for access control.
Not only does this control who enters and exits your facilities (and when), but it also includes cloud access control. That means user-managed access control via the cloud, integrated badging, live muster reporting, use of a mobile phone as a credential, global lockdown across multiple sites, 3xLogic video integration, and an unlimited quantity of doors and users. All of these fantastic features are powered by IT-friendly PoE.
Warehouse and Distribution Center Efficiency
Sonitrol not only provides improved safety and security, but we also make your distribution business more efficient.
When you spend less time worrying about upgrading and maintaining your facility's safety you have more time to focus on systematic improvements and keeping your production on track.
Sonitrol handles the safety and security side of your business so you can focus on what you do best, improving your distribution center's efficiency.
Advanced Warehouse Safety and Security Solutions with Sonitrol
At Sonitrol, we are experts at keeping your business safe and secure. From our world-class Central Station video monitoring services to our supreme access control, Sonitrol knows what it takes to keep your warehouse or distribution center safe and secure.
A warehouse or distribution center security system can help give your business a boost this holiday season.
If you are curious about the difference Sonitrol can make for your warehouse or distribution center security, reach out to Sonitrol today!
Satisfied with the Sonitrol difference? Leave us a review on Google here!