What Features Should I Look for in My Home Security Camera?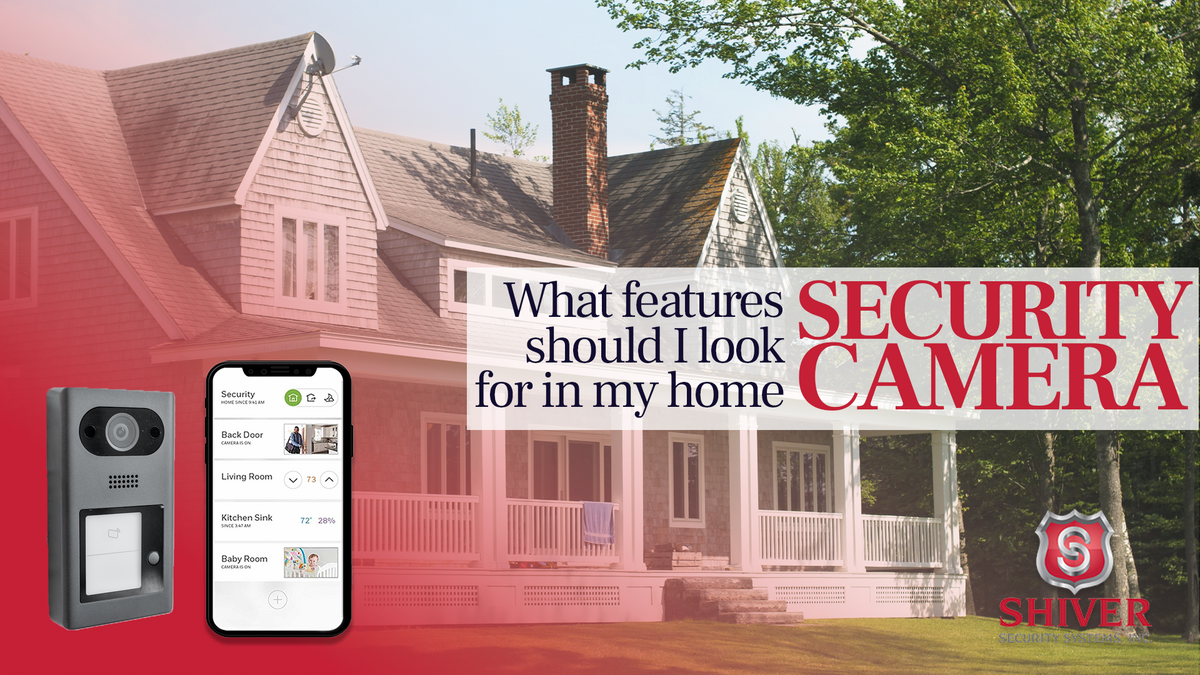 When it comes to safeguarding your home against potential risks and hazards, one of the most effective tools in your arsenal is a reliable home security camera system. There are many different home security camera options to choose from and it can be easy to become overwhelmed by the choices.
Today home security cameras offer many unique features designed to make keeping your home and family safe easier than ever before. Motion detection, access to live footage on mobile apps, and pristine image quality are just some of the features you should look for in a security camera system for your home.
In this post, Shiver Security will help you identify the security camera features that are right for you to maximize your home security.


The Best Home Security Camera Features


Today there are dozens of different home security cameras to choose from. Each unique model comes with individual features that set it apart from the competition. But how do you choose the home security camera that is best for you?
Let's look at some of the must-have features of your home security cameras.


Video Quality


Video quality is one of the most important features to look for in a home security camera system. You need cameras that offer high image quality with a resolution of at least 1080p and excellent low-light performance to ensure that your cameras get clear footage any time of day or night.


Field of View


Another important feature is the camera's field of view. The field of view is the total area that your camera can capture. For expansive spaces, a wide field of view is necessary, likewise for more confined spaces, you may be better off with a camera with a narrower field of view.


Connectivity


You will need a camera that is compatible with your home Wi-Fi and has a reliable connection. You will also need to ensure that the camera is compatible with your smart device (like a smartphone or tablet) so you can access your security footage any time of day.


Remote Pan and Tilt


Look for a camera system that you can remotely pan or tilt from the convenience of your smartphone. Panning and tilting allow you to expand your field of view and adjust the angle of your camera all with the push of a button.


Ability to Integrate with an Alarm


Your camera system does not need to be integrated with an alarm system. However, you should look for a camera that can integrate with an alarm. This will give you more options when it comes to warding off threats and boosting home security.

Two-Way Audio


Cameras may come with built-in microphones and speakers, meaning that you can communicate with people at your door, or outside your home. This is a powerful tool for screening guests and scaring off would-be vandals and burglars.


Motion Detection


Motion detection is a great way to ensure that you are always aware of any unexpected visitors or threats to your property. A camera with motion detection will give you peace of mind as you will be immediately alerted of any suspicious activity.


Mobile App


Being able to access your security footage any time of day is one of the best features modern security cameras have to offer. Mobile app compatibility allows you to monitor your home, receive alerts, and view recorded footage all from the convenience of a device you carry in your pocket.


Storage


Different home security cameras will offer different ways to store footage. Some cameras use cloud storage, others use an SD card. Cloud storage is often more convenient, but it may require a monthly paid subscription.


Smart Home Integration


You can choose a security camera that integrates with your smart home systems such as Amazon Alexa or Google Assistant. This feature allows you to control your security cameras with your voice or automate specific tasks.


Home Security Cameras that Work for You with Shiver Security


When shopping for a new security camera system, you need to first identify the features you need. These features should be compatible with your home, your property layout, and your lifestyle.
Some homes will need many security cameras and others may only need one or two.
What you need is dependent on your home, your family, and your needs. If you are struggling to identify the security camera system that is best for you, Shiver Security can help you evaluate your security needs and identify a home security camera that works for you.
If you are ready for a comprehensive home security camera system that features superior video monitoring and crystal-clear image quality in Cincinnati or Dayton, then it is time to reach out to Shiver Security today!
Want more security tips and tricks? Follow Shiver Security on Facebook, and LinkedIn today!
Satisfied with the difference Shiver Security has made for your home security? Leave us a quick review here!