A Babysitter's Guide to Home Safety and Security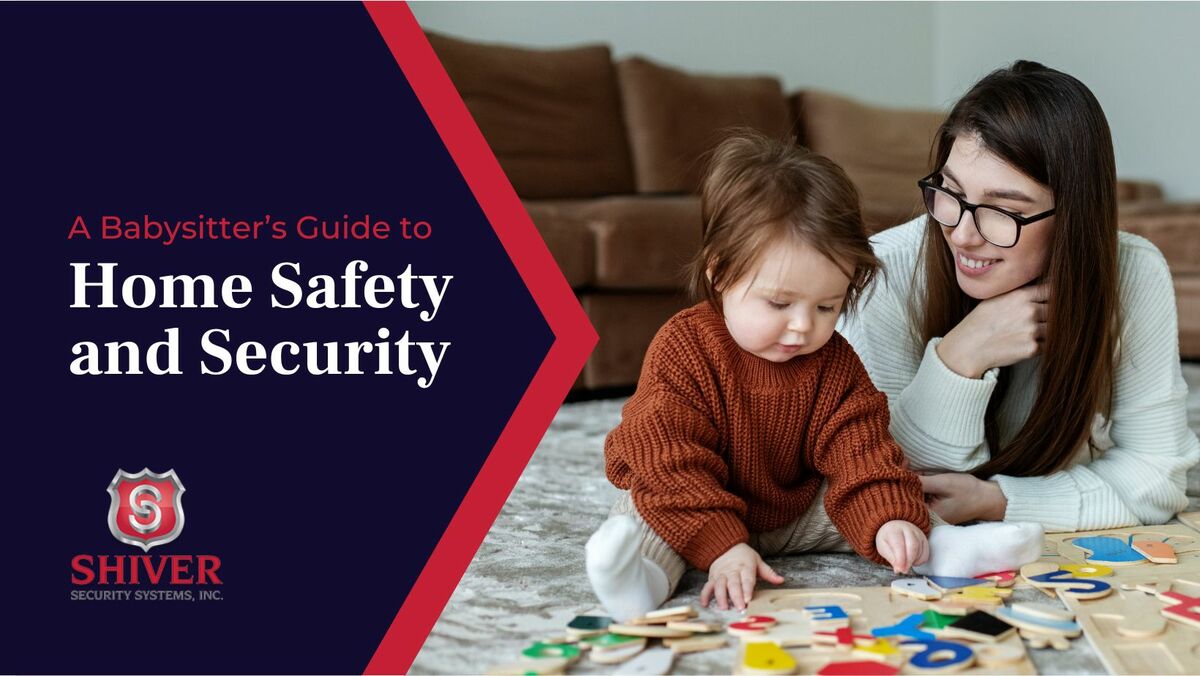 Home security is a big issue and the cause of much anxiety for many homeowners, especially parents.
These anxieties can be exacerbated when the parents are away, and a babysitter is left in charge of the children.
Babysitting safety and security is something far too many people take for granted, and without proper instructions and safety measures, a babysitter can quickly find themselves in a dire situation.
Smart home security systems are a great start, but parents can take the next step and help their babysitter become well-versed in home security protocols.
In this post, Shiver Security has assembled a guide for parents and babysitters to improve home security and child safety for their valuables and loved ones.
Home Security and Safety Tips for Babysitters
Keeping your home and loved ones safe while a babysitter is in charge is not something you should take for granted. Babysitters should be aware of these tips to ensure that the home is secure when the parents step away for the evening.
Here's what the babysitter needs to know:
How each door and window locks and can be opened. They should be able to tell whether or not a door is locked just by looking at it (i.e., without having to jiggle the handle to test it).


How to activate and deactivate the alarm system. The babysitter should know whether the security system is set at all times to reduce the chance of an emergency.


The babysitter should know where the spare key is if they or the children get locked out of the house.


The babysitter should also know where the carbon monoxide detectors are in the home. Carbon monoxide is an odorless gas so the only way to detect it is through a carbon monoxide detector. If the alarm goes off, all people and animals must leave the house immediately.


Additionally, the babysitter should know where the smoke detectors are in the house. It is the parent's responsibility to ensure they are working before they leave.


In case of fire, the parents and babysitter should make a plan to evacuate the house. The babysitter should round up all the children and call 911 once outside.


The babysitter should know whether or not there is a safe room in case of a break-in. A safe room should be able to lock from the inside and have a secure exit outside.
Safety and Security Tips for Home Visitors
Babysitters are not the only guests who must know home safety protocols. Here are some things all home visitors should know to ensure your home is kept safe.
Never open the door for anyone except for the parents, or approved guardians, if you are left in the home alone.


Never open the door for anyone claiming they are a member of the police or fire department if they were not called. You can ask for their badge number or call 911 to confirm police presence.


If visitors are expected, make sure the kids can verify them before you let them in. However, you can tell the parents you are uncomfortable with any visitors while they are out.


Guests should never invite their friends over while their parents are away. Parents will not be pleased to find they have five babysitters instead of one, or that there is a party on their front lawn.


Guests should make sure they have the phone number of a trusted neighbor in case of an emergency.
Get the Home Security You Deserve with Shiver Security
Don't take your home security for granted. When you are away, your babysitter or guests should know how your security system works, where security cameras are, where smoke and CO detectors are, and what to do in case of an emergency.
If your security measures are too lax, then it is time to make an upgrade.
Nothing is more important than the safety and security of your home and children. Parents, start with implementing a Shiver Security Smart Home Security System for your home.
Shiver Security makes it easy to check in on the babysitter, so you can go on a date night knowing your loved ones are safe and secure at home.
Ready to take the next step? Reach out to Shiver Security today!
Satisfied with the Shiver Security difference? Leave us a review today!