Home Security While on Vacation: Your Ultimate Guide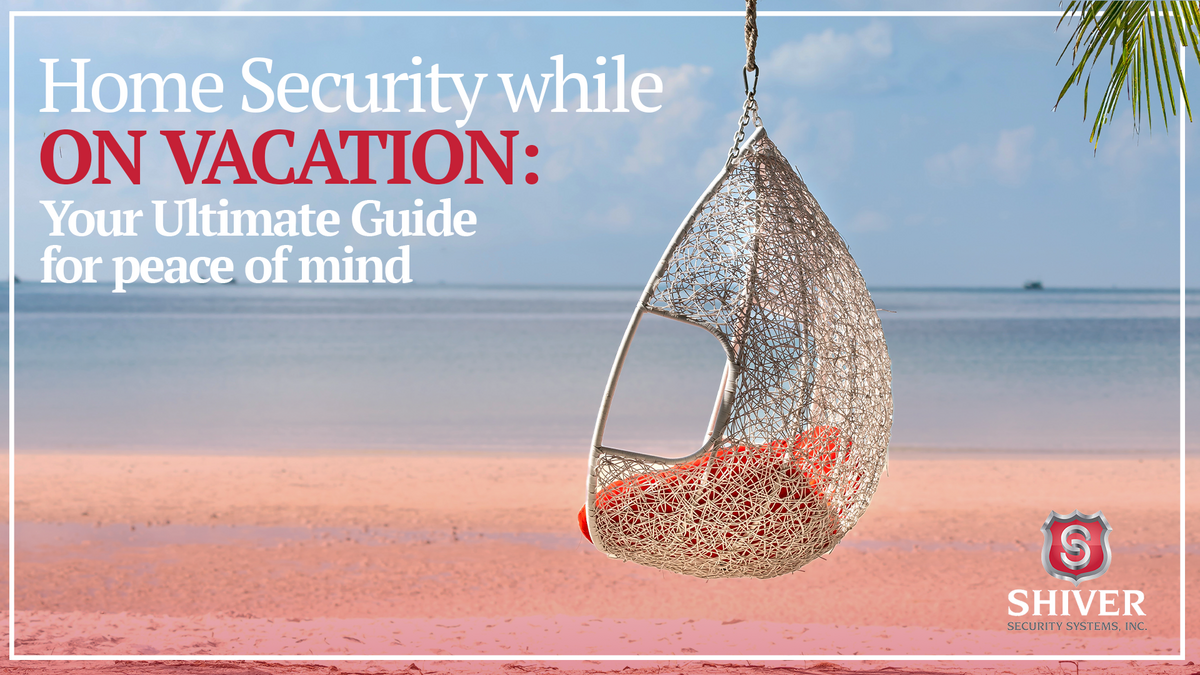 What's better than vacation? You take some much-needed time off work, you get to spend time with your family (or yourself), and you experience new sights and sensations!
But while you are having the time of your life, thieves can use your absence to break into your home and make off with your valuables.
Luckily for you, you can take a few simple precautions, and stop thieves in their tracks. Securing your home while on vacation doesn't have to be difficult. Follow the steps in this blog post for peace of mind while you are on vacation.


Six Steps to Home Security During Vacation


Preventing break-ins during vacation is likely one of your highest priorities. The good news is that there are a few simple steps you can take to improve home security while traveling.
So, how do you keep your home safe while on vacation?


Install a Home Security System


A high-quality home security system can be an effective way to boost home security while traveling. A good home security system will allow you to monitor your home from your smartphone anywhere in the world. In addition, in the event of a break-in your security system will alert the authorities instantly.
When you get a security system with Shiver Security you get a team of dedicated security professionals standing by 24/7. Your security team will be alerted of any suspicious activities and will stay on the line with the authorities until the situation is resolved.


Secure Your Doors and Windows


Many thieves break into your home through two key entry points: your doors and windows. Leaving your doors or windows unlocked while you go away on vacation is like an open invitation for a burglar. Check your doors and windows to make sure they are locked to ensure that your home is not subject to break-ins during vacation.


Don't Share Your Vacation Plans on Social Media


It is easy to fall into the trap of posting your daily life on social media. However, when you click 'post' you are sharing that you are away from your house with the entire world. Always make sure you have proper security measures on your social media accounts (i.e. that only your friends can see your posts) and hold off on announcing vacations or posting pictures until after you come back from vacation.


Set Up Timers for Lights and Electronics and Schedule Yard Maintenance


Thieves and burglars are very good at identifying when someone is away from home by noticing things like your lights remaining off for days at a time or noticing that your grass has not been clipped. Set up timers for your lights and electronics so they turn on and off at different times of the day. Also, hire a landscaping company or hire a neighbor to clip your grass if you are going to be gone longer than a few days.


Enlist the Trust of a Reliable Neighbor


Sometimes we all need a little help from the people we trust. One of the best ways to prevent break-ins during vacation is to enlist the help of a trusted neighbor to do tasks like bringing in your mail and watering your plants. Just be sure to buy a souvenir or goodie bag to thank them when you come back!


Secure Your Valuables in a Safe Place


Another key step to home security while traveling is to put your valuables in a safe place while you are away. For example, you might want to put sensitive documents and high-price valuables in a fire safe or a safe deposit box at the bank. Just make sure your social security card and jewelry are under lock and key before you leave.


Home Security You Can Count on with Shiver Security


You need a home security partner you can count on, especially when you are securing your home while on vacation.
Shiver Security is your home security partner. When you work with us for your home security system needs, we offer 24/7 home emergency monitoring to ensure that if suspicious activity is detected on your property, a trained security professional can look in an alert the authorities in the event of an emergency.
If you are looking for a home security partner you can count on, reach out to Shiver Security today!
Happy with the difference Shiver Security has made for your home security system? Leave us a quick five-star review on Google here!
For more home security tips, follow Shiver Security on Facebook, and LinkedIn here!