How to Improve Your Auto Dealership Security with a Security System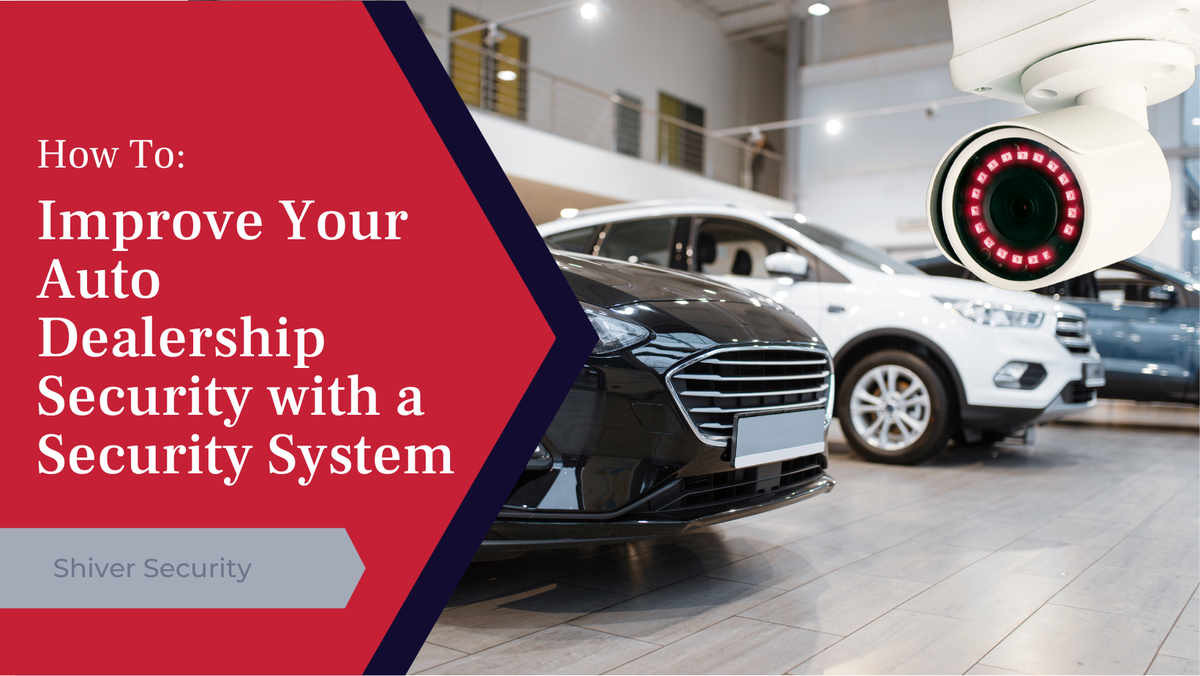 Auto dealerships are unlike any other business.


When other businesses close for the day, they lock up their merchandise for safe keeping behind glass and protective metal gratings. Auto dealerships do things differently. The size of the merchandise means that the dealership's cars and trucks are left out on the lot overnight.


Millions of dollars in automobiles are regularly left exposed to potential thieves without any security measures.


If your auto dealership is leaving its most valuable merchandise exposed on an empty asphalt lot, then the only thing stopping thieves from trespassing on your dealership and making off with a brand new car is luck. It's as easy as crossing wires and the thief has made off with your car.


Theft is not the only thing dealerships have to worry about either. Vandalism can cost you mightily and lead to lost business.


Every vehicle or part that is damaged hurts a dealership's bottom line.


There are many ways a security system is a smart investment for auto dealerships and Sonitrol is here to help.


Keep reading to learn more about how we can help you protect your auto dealership.


How to Keep Your Lot and Vehicles Secure


To keep your auto dealership secure, you need a modern security system. That means a system that has more features than a burglar alarm and a camera with a grainy video feed.


An upgrade in your auto dealership security system can go a long way to help ensure your vehicles are safe from theft.


Let's look at some of the benefits a fully upgraded security system can offer your dealership and why you should start pursuing upgrades today.


Protect Your Employees and Customers


The only thing more valuable than your vehicles are your customers, guests, and employees. Threats to human life and health should be your number one priority.


The good news is that protecting your employees and guests is easier now than ever before.


An advanced video surveillance system acts as a safety net. Cameras act as a deterrent for any would-be thieves as cause them to think twice before engaging in any dangerous criminal behavior.


Should any incident occur, your cameras will record the whole thing, and help the police track down the guilty party, or better yet catch them in the act.


Improved Ability to Sell


Sales drive your business. The good news is that you can make sales more easily when you have a little help from advanced technology.


One of the best ways to use your security footage is to help you drive sales.


Your recorded footage tells you who was at your dealership and when.


This allows you to track customer habits, and correlate data between those cars that customers look at and those which they end up buying.


This will save both staff and customers time when it comes time to find a customer the perfect vehicle.


Stop Thieves and Vandals Before They Can Cause Harm


A complete surveillance system is highly effective at deterring thieves before they make their move. Knowing that they are being watched and recorded will make them think twice about theft or break-ins.


If a theft does occur, the recorded footage will give you and the police a way to identify the perpetrator. Best of all, when you work with Sonitrol, any suspicious activity alerts our professionals at our headquarters, and we will alert the proper authorities.


That means police will be on their way to the scene of the crime before the trespassers have a chance to get away.


Finally, if a part or car is stolen and not recovered, video surveillance makes insurance claims a breeze as the proof of theft is clear as day.


Improve Confidence


An advanced security system ensures that you can be confident your business is protected from fire, theft, carbon monoxide, flooding, and more.


24/7 video surveillance gives you the heads up on any threats as they are happening, improving your response time.


In addition, smart security systems give you control over your thermostat, lights, and locks. That means that every facet of your business is under your control with the push of a button.


Take Your Business Further with Sonitrol


Today, your business's security is more important than ever before.


To ensure that you have the ultimate control over your auto dealership, you need a smart security system from Sonitrol.


Sonitrol of Southwest Ohio is the third largest commercial security provider in North America, and we cut no corners when it comes to protecting your business. Our integrated suite of security solutions includes audio intrusion detection, managed access control, video surveillance, fire detection, and 24/7 monitoring by trained professionals.


Whether you have a single dealership or a regional chain, Sonitrol can give you total peace of mind with our enhanced security systems.


If you want a security system you can count on to protect your business 24/7, then it's time to reach out to Sonitrol.


For better auto dealership security in Southwest Ohio, reach out to Sonitrol today!