Monitored vs Unmonitored Home Security Systems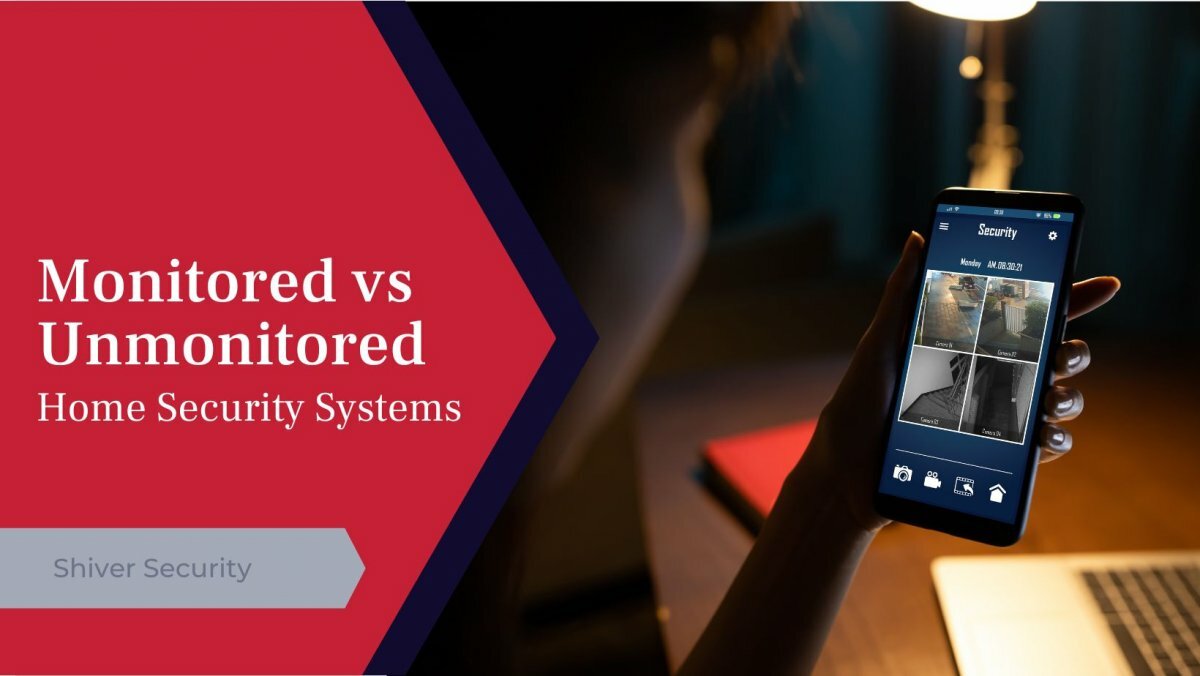 Nothing is more important than your family's safety.
That's why it is imperative to protect your home from hazards like break-ins, fires, carbon monoxide leaks, and more. But, if you hope to get a good night's rest, you can't be on guard all hours of the day.
Instead, many homeowners opt for a home security system to help ensure that their home is safe and that their family is protected.
Home security systems do more than just provide peace of mind and a sticker to post in your window. They offer you up-to-the-minute protection against a wide range of threats.
There are a few different types of home security systems, and in this post, we will be discussing the difference between monitored home security systems and unmonitored security systems.
Curious about which option is better for your home? Keep reading to find out more!
How to Decide Between a Monitored and Unmonitored Home Security System
Choosing the best home security system for your family is not always an easy choice. You have several different options to choose from and it is easy to become overwhelmed.
Let's break down the difference between a monitored and an unmonitored home security system and how you can decide which is the best option for you.
Monitored Home Security System
Monitored home security systems, a type of smart home security system, are an ideal fit for those who want maximum security and total peace of mind.
With monitored home security systems, in the event of an emergency (your security system detects carbon monoxide or picks up on signs of a break in), a trained operator will immediately have eyes on your video feed and alert the proper authorities.
That means even when you are sleeping, a trained professional will be standing by to protect your home.
Different security companies have different policies and features, so be sure to do your research to determine which company is best for you and your family.
With a monitored security system, your representative will immediately respond to any threats and alert local authorities (police, fire department, or other agencies).
That means that even when you are not at home (or even in the country), your home will be safe and protected.
Your security company's headquarters will be connected to your smart home security system, so if your home picks up any threats, not only will you be alerted, but your headquarters representative will also be on the case just as quickly.
Unmonitored Home Security System
Sometimes call a self-monitored security system, unmonitored security systems can still be an effective way to keep your home secure.
The main difference between the monitored home security system and the unmonitored home security system is that monitored systems have a representative watching your home feed, on-hand and ready to alert authorities of any threats, and the unmonitored systems do not.
Unmonitored home security systems are lower in cost, but homeowners must take on more responsibility. If they detect a threat to their security system, they are responsible for contacting the authorities on their own.
This may be a better option for those on a tight budget, but it comes with a higher risk as the responsibility of home protection falls entirely on you as the homeowner.
Home Security You Can Count on with Shiver Security
When it comes to home security, there are many different options for you to choose from.
One of the biggest choices you have is choosing between a monitored and unmonitored home security system.
Monitored home security systems are by far the more secure option.
When you want the best in terms of monitored home security systems, look no further than Shiver Security.
We offer your home the best all-around protection available. Shiver protects your home from break-ins, fire, vandalism, carbon dioxide, and more. Our trusted professionals at our Central Station are on hand 24/7 to monitor any potential dangers and stop them before they can cause danger to you or your family.  
If you are ready to get serious about home security, then it is time to reach out to Shiver Security.