5 Must-Have Security Solutions for Office Spaces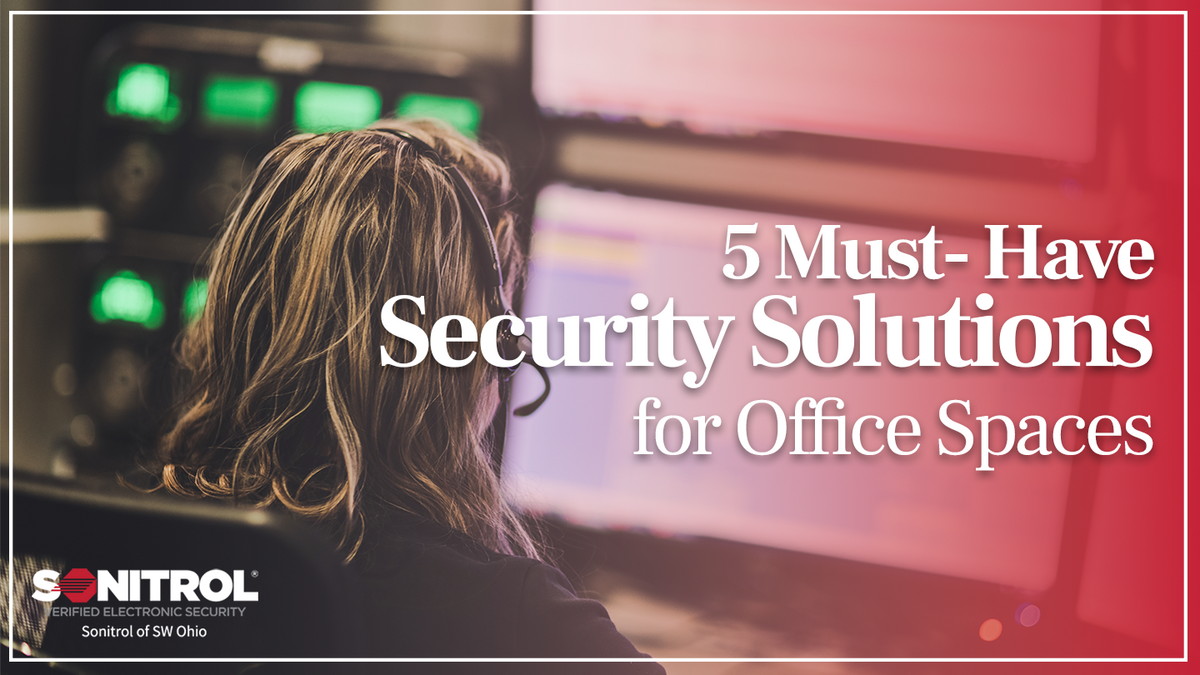 Security solutions for your office space have never been more important.
There are dozens of different threats to your business and office space, including physical threats like fires or break-ins, and digital threats like hacker attacks and cyber security shortcomings.
Sonitrol helps hundreds of businesses in the Cincinnati and Dayton area improve their office security. Many business owners have questions about how they can boost their office security, and Sonitrol is here to answer those questions and implement solutions to help keep your office secure.
What is the difference between a verified and a non-verified security system? Learn more here!
Offices are not just places where your employees come to work. They are valuable safehouses of information. Because of this, offices need sophisticated security measures to repel and address various threats.
In this post, Sonitrol has put together five security solutions that every office space needs to thrive.
These Five Security Measures Keep Your Office Safe from Threats
Don't leave your office security up to chance or outdated technology. Below we have assembled the top five security measures you must implement to keep your office space safe from threats.
Video Surveillance
Video surveillance is one of the most important security solutions for office spaces.
This solution involves the use of cameras that are strategically placed throughout the office space to monitor activity. The footage captured by the cameras can be used to identify potential threats, prevent theft, and provide evidence in the event of an incident.
Additionally, having visible cameras can act as a deterrent to potential criminals. Criminals know that office spaces with cameras will be more likely to detect their break-in attempts, so they will move on to easier targets.
Access Control
Access control is another important security solution for office spaces.
It involves the use of technology to limit access to certain areas of the office space. This can include the use of key cards, biometric scanners, or even facial recognition technology.
Access control systems ensure that only authorized personnel can enter restricted areas, reducing the risk of theft or other security breaches.
Verified Intrusion
An intrusion detection system is an essential security solution for office spaces.
It involves the use of sensors that detect when someone has entered a restricted area or has breached the perimeter of the office space. The system will then trigger an alarm or alert security personnel, who can quickly respond to the situation.
Fire/CO Alarm
A fire alarm and carbon monoxide (CO) alarm are essential security solutions for any office space.
They are designed to detect the presence of smoke or carbon monoxide in the air and alert occupants to evacuate the building. These systems are critical for ensuring the safety of employees in the event of a fire or CO leak.
Online Security Tools
In today's digital age, online security is just as important as physical security. Online security tools include firewalls, antivirus software, and other software designed to protect against cyber threats such as hacking, phishing, and malware.
When choosing online security tools, it is important to consider the specific needs of the office space. For example, if employees frequently use mobile devices, a mobile device management system may be necessary.
New to business security? Here are five tips every business owner should know.
Sonitrol Stands Up for Your Office Security
Don't face office security alone!
If your office is lacking in key security measures, then you need a team of experienced security professionals who can help you sure up potential threats and improve upon your established strengths.
Why is business security important? Learn more here!
Sonitrol is here for all your workplace security needs. We handle physical security such as CO detectors and surveillance systems and cyber security measures such as firewalls, antivirus software, and more!
If you are ready for a professional security company that knows what it takes to keep your Cincinnati or Dayton office safe and secure, then it is time to reach out to Sonitrol today!
Satisfied with the Sonitrol difference? Leave us a quick five-star review here!
Want more from Sonitrol? Follow us on Facebook, Instagram, and LinkedIn for more free content!