New to Business Security? Here are Six Security Tips that Every Cincinnati Business Owner Should Know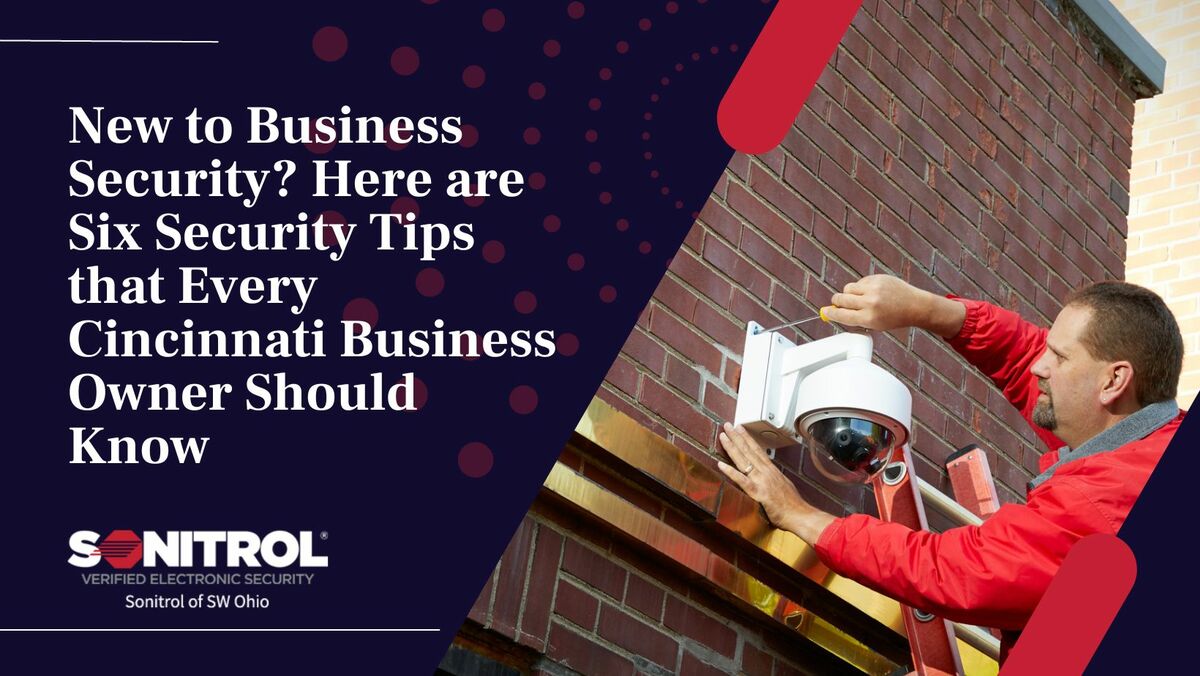 When it comes to your business, nothing is more important than security.
Comprehensive and effective security measures keep you safe from threats that could otherwise sap your business dry.
This includes burglaries, but other less obvious threats like cyberattacks and identity schemes threaten your business too.
Many Cincinnati and Dayton business owners do not know where to start when it comes to business security or what steps they must take to improve.
Monitor your security system at any time and anywhere. Learn how here!
This post will quickly go over six easy steps every business owner should know when it comes to business security.
Is your business following these steps? If not, then it may be time for an upgrade! Keep reading to learn more!


Cincinnati and Dayton Business Security Basics


Before you dive into more advanced security measures, you must have the basics covered.
Here are six quick tips that you should follow for business security success.


Train your employees


Your employees are the first line of defense when it comes to securing your business. Make sure they know how to spot and report suspicious activity, and that they understand the importance of keeping confidential information secure.


Conduct regular security assessments


Regularly assess your business's security risks and vulnerabilities. Identify potential weak points in your security systems, and take steps to address them. This could include things like regular software updates, security audits, and penetration testing.


Implement strict access controls


Limit who has access to sensitive information and critical systems. Use strong, unique passwords and enable two-factor authentication when possible. Consider using a password manager to help ensure that employees are using strong and unique passwords.
This includes key fob access to doors, protections on sensitive cyber information, and the implementation of a smart camera system.


Have a security incident response plan in place


Having a plan in place for how to respond to a security incident can help minimize the damage and get your business back to normal operations more quickly. Make sure all employees know what to do in the event of a security incident and conduct regular drills to test the plan.


Stay current with the latest security threats


The security landscape is constantly changing. Stay up to date on the latest threats, such as new malware or phishing schemes, and take appropriate action to protect your business. Consider subscribing to security newsletters or following relevant experts on social media to stay informed.


Consider hiring a professional security consultant


If you're not sure where to start with securing your business, or if you want an expert to take a look at your current security measures, consider hiring a professional security consultant (like Sonitrol). They can help you identify vulnerabilities, recommend best practices, and provide training for your employees. It can be a good investment to have a professional checkup and review your security measures periodically.


Sonitrol is Here to Help Your Business Fight Back Against Threats in Cincinnati and Dayton


Whether you are new to business security, or it has been on your mind for more than a decade, every business could make an upgrade.
From basics like alarm systems to more complex smart verified security systems, Sonitrol is here for you to help ensure that your business's security needs are met.
How can your business use smart security devices? Here is a quick guide!
Don't settle for the bare minimum, when you work with Sonitrol you gain access to our team of verified security professionals who are on hand night and day, ready to review your security footage and spot anything that goes amiss from potential break-ins to fire gas leaks and more.
If you want to upgrade your business security system in Cincinnati, Dayton, Beckett Ridge, Middletown, Springboro, Kettering, Centerville, Hamilton, or Mason, then it is time to reach out to Sonitrol of Southwest Ohio today!
If you are happy with the difference Sonitrol has made for your Southwest Ohio business, please leave us a quick five-star review on Google!
Don't miss out! Follow Sonitrol on Facebook, Instagram, and LinkedIn for more free business security and security management tips!