The Importance of a Comprehensive Security Management System for Your Business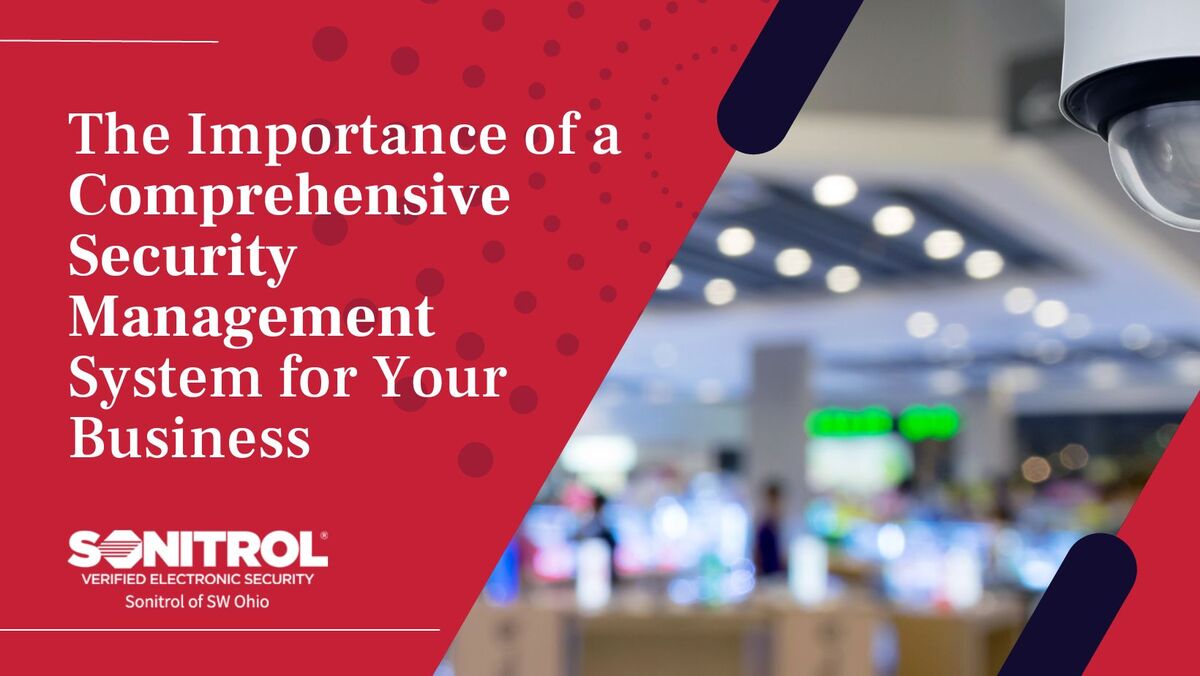 When it comes to your business, nothing ranks higher than security.
For comprehensive business security in Cincinnati and Dayton, the best businesses are opting for total security management systems for their security monitoring needs.
But what does a total security management system look like? And how can your business use one to meet your security monitoring needs?
Total security management includes many aspects of business security including physical security, information security, employee security, and network security.
What is a verified security system? Learn more here!
All these aspects are important to consider as they keep your assets safe and ensure that your business is trustworthy and turns a profit.
Threats to your business are on the rise. Both physical and cyber threats can cause your business harm.
In this post, we will go over the importance of a comprehensive security management system for your business and why you must consider an upgrade if your business security plan has too many holes.

Cincinnati Business Security Management Systems for the Modern World


Today's world sees more threats against businesses than ever before.
It is not enough to have top-notch physical security, you also need to protect your intellectual property and the sensitive information of your customers and clients.
Let's take a closer look at some of the threats your business can face in today's world.


Physical Security


Physical security involves security measures that prevent threats to your tangible assets, such as your office computers, merchandise, shipments, and company vehicles.
Measures like cameras, access control, and alarms help mitigate these threats.
What is access control? Learn more here!


Information Security


Information security involves protecting your and your clients or customers' sensitive information. This includes payment information and other assets that could allow a hacker or thief to steal from you or your clients.
Superior IT and cyber protection help reduce these threats.


Employee Security


Employee security involves protecting your employees from physical threats like fire, intruders, carbon monoxide leaks, and more.
Fire alarms, CO detectors, and alarm systems that are interconnected are the best ways to mitigate these risks and keep your employees safe.


Network Security


Network security involves protecting your internal assets from hackers, bugs, and other threats. Hazards include loss of sensitive data or system shutdowns.
Network security risks can cause your clients to lose trust in you and lead to lost days of work as you wait for your network to be restored.


Why Your Business Must Invest in a Comprehensive Security Management System


If your business does not yet have a comprehensive security management system, 2023 is the year to invest.
The benefits of installing a security management system in Cincinnati or Dayton are numerous. It will help you with risk management and will save you money in the long run.
Let's break down some of the top benefits below.


Risk Management


A comprehensive security system company will help you assess the risks to your business and determine where your business is weakest and how you can correct those issues to ensure you are safe from danger.


Incident Response


If a security violation does occur, you need an experienced team in your corner. A security team will be on hand to monitor video footage in the event of a possible emergency, and will alert the proper authorities should an incident occur.


Monitoring and Surveillance


The best part about a comprehensive business security system is that you can review your live security footage from the convenience of your phone at any time and any place. What's more, a trained team of security professionals is on hand 24/7 to ensure that any security violations are detected immediately.


Cost Savings


Installing a comprehensive security system for your business in Cincinnati or Dayton can save your business significant funds in the long run. Thieves and hackers can rob your business blind and in some cases, they can even start you on the road toward bankruptcy. A comprehensive business security system stops thieves in their tracks and ensures your business remains profitable.


Better Business Security in Cincinnati and Dayton with Sonitrol of SW Ohio


You and your employees rely on your business for your daily lives. Because of that, protecting your business and your employees from threats should be your business's first priority.
If you are looking for a security company that has helped hundreds of businesses just like yours to find security solutions that work for them, then look no further than Sonitrol of SW Ohio.
New to the business world? Use this guide to get you up to speed on the latest in business security!
We know what it takes to keep your business safe from threats such as burglars, fires, cyber-attacks, and more!
If your business could use a security upgrade in Cincinnati or Dayton, then it is time to reach out to Sonitrol of SW Ohio today!
Are you one of the hundreds of businesses satisfied with the Sonitrol of SW Ohio difference? Leave us a quick review on Google here!
Don't miss out on the best free business security content! Follow Sonitrol of SW Ohio on Facebook, Instagram, and LinkedIn for more of the best business security tips!