Five Simple Home Security Tips to Secure Your Home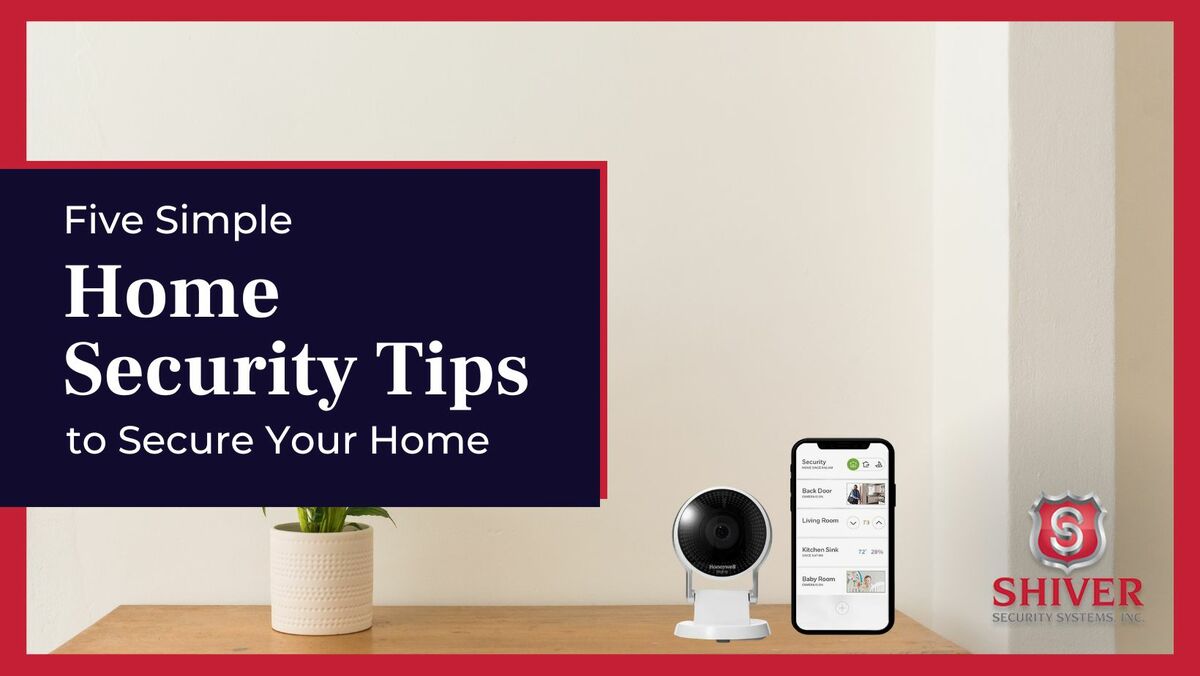 Home security is on everyone's mind these days.
There are many threats to your family's security both inside and outside the home.
Fires, carbon monoxide leaks, and other threats can pose a risk to your safety. However, burglars, vandalism, and other outside threats are equal causes for concern.
The good news is that there are many things you can do to improve your home security.
This post will cover five simple home security tips to help you feel more secure in your home.
Use These Tips to Boost Your Home Security Now
Shiver Security proudly serves areas including Middletown, Centerville, Mason, Fairfield, Miamisburg, Beavercreek, Loveland, Anderson, Indian Hill, White Oak, and more!
If you want to boost your home's security, follow the five tips below.
Get a Home Security System and Post Security Signs
The most effective thing you can do to immediately boost your home's security is to install a home security system. There are many options to choose from, but a verified, smart home security system will have the most profound impact.
Check out Shiver Security's Verified Smart Home Security System here!
A verified smart home security system allows you to monitor your home from your phone, gives you complete control over home automation (like locks and lighting), and allows you to arm or disarm your security system from anywhere.
One step that people often neglect: post security signs outside your residence. That is a clear sign to would-be thieves that your home is protected and you are not an easy target.
Inspect Your Doors and Windows
If you have weak points of entry, then opportunistic thieves can use them to gain entry into your home. Front doors and propped-open windows are common entry points for thieves.
Have a professional come and check all the locks on your windows and doors to ensure that they are all secure, properly installed, and function as they should.
A pro will test your door and window frames to probe for weaknesses and assess whether you need to have any components fixed.
Light Up Your Home Exterior
Thieves thrive in the dark. They rely on shadows in the daytime and the cover of night to break into your home and make off with your valuables.
Light up your home's exterior with security lighting to ensure that thieves are fully exposed if they try and enter your home.
Burglaries can occur day or night, but if you illuminate shadowy points of entry, thieves will struggle to get in without being detected.
Have Your Furnace and Fireplace Inspected
Burglars are not the only threats to your safety. Carbon monoxide and fire can pose significant threats to your well-being. Two major culprits are furnaces and fireplaces.
Have a professional come out and inspect both for signs of deterioration, damage, or gas leaks.
Deadly gasses like carbon monoxide can harm you before you ever notice, and fires can cause damage to your home, or leave you trapped in a blaze.
Have both furnaces and fireplaces inspected to ensure your family and home are secure.
Invest in a Safe
If someone does break into your home, keep your valuables secure with a safe.
A safe is a perfect depository for valuables like jewelry, cash, sensitive documents, and more.
Safes can also come in fireproof and waterproof varieties. It all depends on what you need and what you want to protect.
A More Secure Home with Shiver Security
No one should have to worry about home security. With Shiver Security, you never have to.
We have the latest, most cutting-edge technologies available to help ensure that your home is safe and secure whether you are there or not.
Our verified smart home security system gives you complete control over your home. You can monitor your home security footage from anywhere on your phone, and our team of trained professionals monitors signs of danger to give your peace of mind.
Additionally, you can control home automation to help you save on energy costs.
If you are ready for a home security company in Cincinnati, Dayton, Northern Kentucky, and Southwest Ohio that cares about you and your loved ones, reach out to Shiver Security now!
Satisfied with the Shiver Security difference? Leave us a review here! And follow us on Facebook, Instagram, and LinkedIn.