How to Enjoy Your Fireplace Safely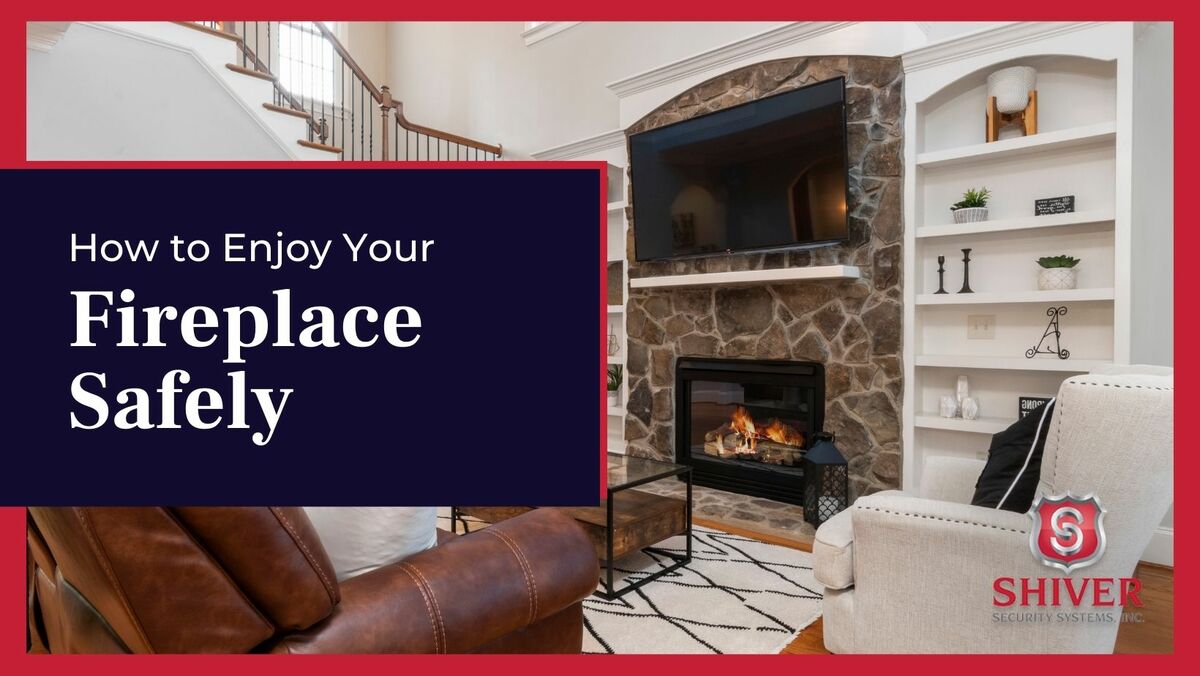 Your home and loved ones can be vulnerable to many dangers, including home fires.


Home fires can happen at any time, but they generally increase during the fall and winter, with December and January being the peak months.

According to American Red Cross, the second leading cause of residential fires are heating sources like wood stoves and fireplaces.

Carbon monoxide poisoning also poses a threat.


With proper fireplace maintenance, smoke and CO alarms, and a comprehensive security system, fireplace safety is something you can count on.


For this post, Shiver Security has put together a comprehensive guide to help ensure you can enjoy your fireplace safely when the weather gets cold.


Your Guide to Fireplace Safety
Nothing is cozier than a calm night spent curled up next to a blazing fire. But, if your fireplace is poorly maintained, that cozy evening can quickly spiral into disaster.


To keep your home safe, you must always adhere to the rules of fireplace safety to ensure home fire protection and to prevent the risk of carbon monoxide poisoning.

Use this post as your guide for fireplace safety.


Have Your Chimney Inspected At Least Once Every Two Years


Safe fireplaces start with the chimney.


In the area behind the flue, not much can be seen. That means that if there is a blockage or another issue, you will not be able to detect it yourself.


Hire a trained and reputable chimney sweep to come and inspect your chimney. They will clean your fireplace and chimney of any soot and debris.


The entire chimney sweeping process takes less than an hour and ensures your chimney is safe to use during the coldest months.


Practice Safety While Making a Fire


This one may seem obvious, but many people can get careless with their fireplaces.


Here are some safety tips to follow to help ensure fireplace safety.


Never use a flammable liquid to ignite a fire. Use a fire log or newspaper instead.


Make sure your log grate is strong and secure so that your wood is fixed firmly in place.


Be sure your fireplace cover is dependable so cold air does not kick ash and embers into your home.


Only use seasoned, dried wood. Not all wood will burn properly and if you cannot identify the best wood to use in your fireplace (or prepare wood yourself) you are better off buying wood specifically prepared for fireplaces.


Improper wood will cause excess smoke which will go into your home and cause harm to you.


NEVER burn cardboard, trash, or debris.


You must know how to close a fireplace and have the plan to extinguish the fire immediately. A working fire extinguisher is a great choice.


Leave ashes in your fireplace until the next morning to ensure they have time to cool.


NEVER leave a fire burning unattended. Even a glowing ember can cause disaster.


Keep Your Home Safe with Shiver Security


There are many different threats to your home. When the weather gets cold, your fireplace is one of them.


When the cold weather comes, make sure your fireplace is safe and you have the knowledge to safely manage a fire.


Remember, an improperly managed fireplace can cause fire to spread through your home or leak dangerous carbon monoxide which can cause brain damage or even threaten your life.


For this reason, Shiver Security recommends you have a comprehensive smart home security system. This includes cameras monitoring your home for signs of danger, smoke and carbon monoxide detectors, and trusted professionals trained to spot signs of danger and call for help if your home is under threat.


We're here to protect what's important this season. Give us a call today and we'll keep you safe all winter long.

Dayton: 937.228.7301


Cincinnati: 513.719.4000


Are you happy with the Shiver Security difference? Make your voice heard here!