The Advantages of Wireless Smart Security Cameras for Homes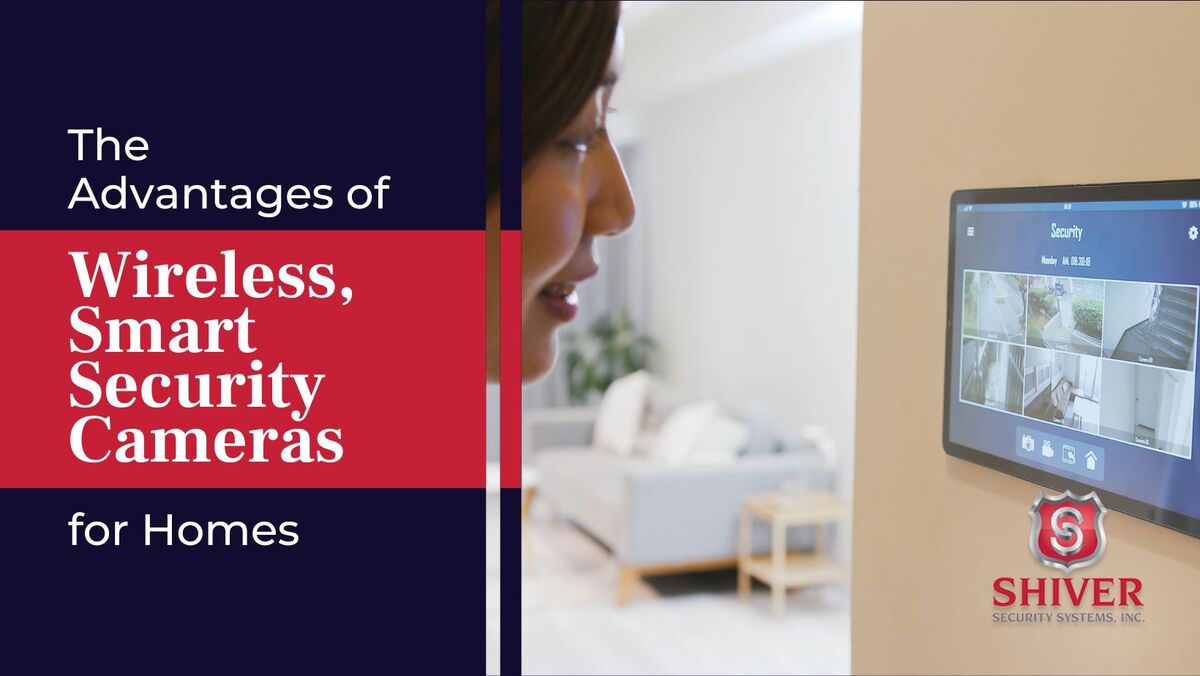 As homeowners, we know that anything you can do to improve the security of your home is an investment worth considering.
The threat of external threats like home invasion is enough, but internal threats like carbon monoxide or fires are equally dangerous.
The best way to protect your home and family from these threats is to install wireless smart security alarm cameras for your home.
Indoor and outdoor wireless security cameras in Cincinnati and Dayton are exploding in popularity and it is easy to see why. They are accessible from anywhere on your smartphone, they can be controlled with the push of a button, and when you get a verified smart home security system from Shiver Security, a team of security experts is on hand to alert the proper authorities should an emergency arise.
More key features of a smart home security system!
In this post, we will take a closer look at the advantages of indoor and outdoor wireless smart security alarm cameras for your home.


Should I Get Smart Security Alarm Cameras for My Home?


Many savvy homeowners are considering indoor or outdoor smart security alarm cameras for their Cincinnati or Dayton homes.
Let's take a look at some of the key features of smart security alarm cameras and whether they are the right choice for you.


Smart Security Cameras are Convenient!


Gone are the days when your home security cameras could only be accessed from a blocky monitor in your basement.
Today your smart security cameras can be accessed from anywhere right on your smartphone! That means you can quickly access any alerts from your security system at a moment's notice.
In addition, smart security cameras are easy to install and you can move them without any hassle.
For one of the most convenient and accessible home security measures, wireless smart security cameras are the way to go.


Wireless Cameras Boost Your Security


Wireless cameras are small and durable. That means they can spot danger before it poses a threat.
Wireless indoor and outdoor security cameras give you an instant security boost to constantly surveying your home.
They also deter and detect would-be intruders, so they are stopped before they become a problem.


Smart Features Make Security Easy


Smart features help pick up the slack, so you do not have to be on alert 24/7.
Indoor or outdoor wireless security cameras offer the following smart features to help boost your home's security.


Motion detection to spot threats immediately.


Night vision to cut through the darkness.


Crystal clear audio to ensure that suspicious sounds do not go undetected.


Verified security backup ensures that a team of security pros have your back always.


Indoor Versus Outdoor Features


Smart wireless security cameras can be installed both indoors and outdoors.
Indoor cameras ensure that any internal threats like fires, intrusions, falls, or any other danger are immediately spotted and the proper authorities are alerted.
Meanwhile, outdoor cameras ensure that external threats are spotted and stopped before they can pose any danger. This includes would-be thieves, wild animals, or other threats to your home.
Wireless security cameras are made to stand up to harsh weather conditions meaning you can count on them, no matter what the weather brings.
Looking for more ways to boost home security? Check out this guide!


Smart Wireless Security Cameras for Your Cincinnati or Dayton Home from Shiver Security


Wireless smart home security cameras have grown in popularity in recent years, and with good reason.
They offer reliable security coverage and 24/7 access to your security feeds.
Burglars and thieves can pose a threat. Here's how to outsmart them!
Looking for the best smart wireless security cameras in Cincinnati or Dayton? Shiver Security is here for all your home security needs!
We have premium smart home security systems and our verified security team is standing by to access any security alerts to your home and ensure you and your family are safe.
If you are ready for the smart home security upgrade you have been looking for, reach out to Shiver Security now!
Satisfied with the Shiver Security difference? Leave us a review on Google here!
Don't miss the best! Follow Shiver Security on Facebook, Instagram, and LinkedIn for more free home security tips!